#GiveCopperCountry Live at the Copper Country Mall
The giving season is off to a great start with #GiveCopperCountry in full force, and this year's event will feature a public event! On Tuesday, November 28, Copper Shores Community Health Foundation will be hosting a #GivingTuesday special event from 10 a.m. to 7 p.m. at Copper Country Mall.
The community is invited to meet with the people who help run our nonprofits, ask them questions and make donations in person. It is free for people to enter and food will be offered by Copper Shores Meals on Wheels. While there people can take a peek at the live media interviews, find new organizations, help your loved ones and neighbors by supporting local nonprofits, and get free giveaways.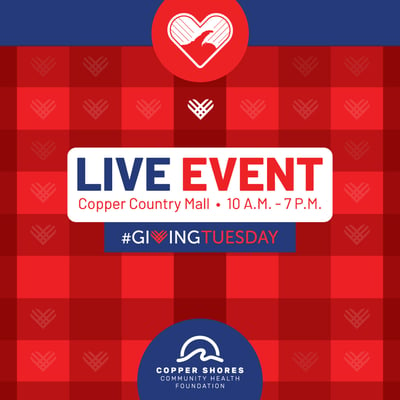 "Our nonprofits do the work they do to make our community a better place, and I am excited for our community to have a chance to thank them in person this year," said Michael H. Babcock, director of marketing and donor relations at Copper Shores. "This event will be a great opportunity for all of us to get to know each other better and celebrate the immense amount of generosity our community has shown."
The Copper Country has many unique needs, and many local nonprofits that are uniquely suited to assist with those needs. Several of those organizations have partnered with Copper Shores for #GivingTuesday in 2023, making it the biggest year for #GiveCopperCountry to date. This year 30 local nonprofits will be participating in #GiveCopperCountry, the Giving Tuesday campaign that aids non profit organizations in Baraga, Houghton, Keweenaw and Ontonagon counties.
Giving Tuesday is a global celebration that takes place every year to encourage people to donate to nonprofit organizations as part of their gifting during the holiday season. Though people give to their loved ones during this time, it is also important to give back to those who have given so much to the community at large.
​​This live event is made possible by Moyle Real Estate and Development, who is donating the space throughout the day to help promote our community's nonprofits. Copper Shores is also excited to thank Shorewaves Internet for dedicating bandwidth to the event on their network at the mall.
Below you can find a list of the participating nonprofit organizations.
31 Backpacks
Ahmeek Village Volunteer Fire & Rescue Department
Baraga County Shelter Home
Barbara Kettle Gundlach Shelter Home
Big Brothers Big Sisters
Bootjack Fire and rescue Foundation
Bridging Gaps Childcare
Camp Josh
Copper Country Angel Mission
Copper Country Habitat for Humanity
Copper Country Junior Hockey Association
Copper Country Ski Tigers
Copper Harbor Trails Club
Copper Shores Bridges
Copper Shores Meals on Wheels
Copper Shores Outreach & Education
Copper Shores Victim Support
Dan Schmitt Gift of Music and Education Fund
Friends of the Porkies
Gay Fire Department Auxiliary
Hancock Trails Club
Keweenaw ATV Club
Keweenaw Family Resource Center
Keweenaw Land Trust
Keweenaw Random Acts of Community Kindness
Keweenaw Snowmobile Club
Little Brothers - Friends of the Elderly
New Power Tour
Omega House
Ontonagon County Cancer Association
Simple Kindness for Youth (SKY)
Superior Search & Rescue
Swedetown Trails Club
unitē Mental Health & Wellness
Emilie Jacques