One Day Until #GiveCopperCountry 2022
Tomorrow, November 29, is the sixth annual #GivingTuesday campaign at Portage Health Foundation. PHF is matching $200,000 in donations this year. Each nonprofit will receive a portion of the match equal to the portion of the total amount of donations designated to them during the campaign.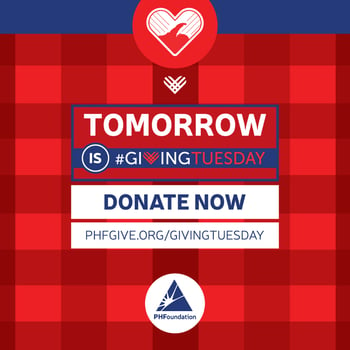 As of Monday, November 28 at 8 a.m. the total amount of donations between the 26 nonprofit organizations is $213,887, with donations coming in from 17 states. With the amount donated so far from this #GivingTuesday, PHF has helped raise more than $2 million since the program started five years ago.
This year, PHF has implemented a new hashtag (#GiveCopperCountry) and two new programs to help maximize community participation. The first of these programs is Dining for Donations, working with six local restaurants. Individuals can dine out at Gino's, Michigan House Cafe, The Copper Range Depot, Skippers Bar and Grille, Syl's Cafe or The Squeeze on Main. By dining at one of the restaurants on #GivingTuesday, the restaurants will make donations. The more people who frequent these establishments, the more money that will be donated. That makes participating in #GivingTuesday as easy as eating your favorite meal at a local restaurant. The second of these programs takes place within the schools. The local schools within Houghton and Baraga counties will be participating in penny wars. Penny wars are a good way to encourage the young minds of the community to get excited for #GivingTuesday while working toward a class prize for raising the most amount of money.
PHF has also welcomed five new nonprofit organizations to the nonprofit partner list. The new partners are Bootjack Fire & Rescue Foundation, Camp Josh, Copper Country Junior Hockey Association, Ripple Recovery Residence - Great Lake Recovery Centers Foundation, and unitē Mental Health and Wellness. Each of the new partners add an organization and mission that may stick out to individuals, allowing them to "put their money where their heart is."
Additional #GivingTuesday partners this year include Swedetown Trails Club, Superior Search & Rescue, Simple Kindness for Youth, Ontonagon County Cancer Association, Omega House, Little Brothers Friends of the Elderly, Keweenaw Random Acts of Community Kindness, Keweenaw Nordic Ski Club, Keweenaw Family Resource Center, Friends of Porcupine Mountain Wilderness State Park, Dial Help, Dan Schmitt Gift of Music, Copper Country Senior Meals, Copper Harbor Trails Club, Copper Country Habitat for Humanity, Copper Country Angel Mission, Big Brothers Big Sisters of the Western UP - U.P. Kids, Barbara Kettle Gundlach Shelter Home, Baraga County Shelter Home, Ahmeek Village Volunteer Fire and Rescue, and 31 Backpacks.

Donations can be made at phfgive.org/givingtuesday through 11:59 p.m. on November 29. While there, visitors can learn more about each of the 26 nonprofit organizations. Donations can also be dropped off at the Portage Health Foundation office in downtown Hancock or mailed to 400 Quincy St; 5th Floor; Hancock, MI 49930 as long as they're posted marked by the end of the day on November 29. Checks must be written out to PHF with the nonprofit(s) designated. Stock transfers are also accepted, email info@phfgive.org or call 1 (906) 523-5920 with questions.
Kiera Raymond