Third Annual Puppy Parade is April 26 in Hancock
In Honor of Sexual Assault Awareness Month Dial Help puts on Charity Parade
On Wednesday, April 26 from 5:30 to 7:30 p.m. Dial Help will host the third annual Puppy Parade for Sexual Assault Awareness at Quincy Green on 401 Quincy St. in Hancock. The event is free and open to the public.
Those who pre-register for the Puppy Parade will receive a free t-shirt and bandana that will be available on a first-come, first-served basis. Preregistration will be done through RunSignUp.com, and a link can be found at dialhelp.org.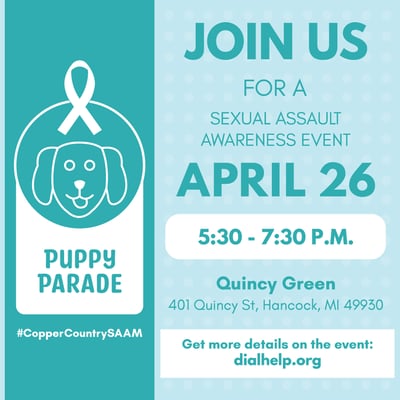 To keep people and dogs safe, Dial Help asks that only dogs with good histories of being in public attend the in-person event on April 26. To help keep everyone safe, Dial Help will have colored bandanas at the event. Every dog will need one of these bandanas visible on their body. Please be mindful of the colored bandanas on our furry friends.
This is the fifth year in a row that Dial Help has come together to honor Sexual Assault Awareness Month, and the third year for the Puppy Parade.
You can join the conversation by using the hashtag #CopperCountrySAAM on any social media platforms. If you have any questions, contact Paige Setter-Hallwachs at psetter-hallwachs@dialhelp.org or call (906) 482-9077. For more information and sexual assault resources, visit the Dial Help Victim Services Unit online.
Emilie Jacques