Angel Mission to use #GivingTuesday funds to help community members
Calumet-Based Nonprofit to Provide Resources and Programming to those Struggling in the Copper Country
Copper Country Angel Mission has partnered with Portage Health Foundation's (PHF) #GivingTuesday for one year, raising a total of $24,376.06 to support neighbors in need. Copper Country Angel Mission has provided services like the free store in Calumet, winter weather clothing drives, angel trees at Christmas and so much more in the last 20 years. The Copper Country Angel Mission is an organization that promotes community welfare by serving those in need with compassion and dignity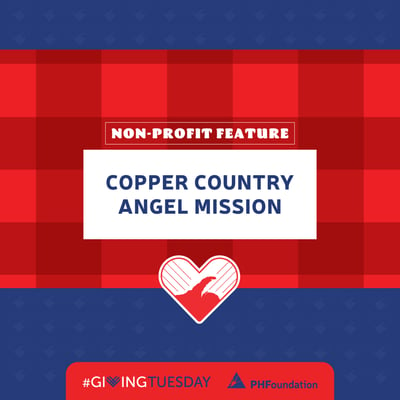 The funds from #GivingTuesday has been vital in making their services available to everyone, regardless of ability to pay. The donations last year allowed the Angel Mission to make a down payment in purchasing a mortgage for their own, stable place. Before the nonprofit ran their mission out of a rented space, leading to not enough storage and no stability for consistent programming. The organization is now in its own building in downtown Calumet and can focus on their mission without the stress of renting. From this building, they continue the operation of their free store. The free store services anyone who needs it by providing gently used household items at no cost of those shopping. Believing no one should have to choose between a new pair of work pants or putting dinner on the table that night, they provide things like clothing, cooking utensils, bed sheets and other necessities.
The Copper Country Angel Mission is more than just the free store. They also have a food pantry every Wednesday and Saturday. This food pantry allows families to fill their homes with consistent meals each week. On an average, the pantry sees 50 people served per month, consistently throughout the year.
Programs Ran by Copper Country Angel Mission
Although the free store and food pantry are the most well known programs that Copper Country Angel Mission does for the community, they facilitate many programs that help the community. They focus on programming that "helps the individual help themselves tomorrow." Paul Tuoriniemi, a board member of Copper Country Angel Mission, states "we want to help you today, or even help you tomorrow, but while we're helping you today we're giving you the resources to help yourself in the future."
By providing resources, like winter weather gear or school supplies they set people up for a successful future. This school year during their backpack and school supply drive, they added hygiene products like socks and underwear for each kid. This is the first year they included products like this with over $2,700 of socks and underwear going to children at the beginning of the school year.
The winter is a hard season for anyone, but especially for those who are not as wealthy as their neighbors. The Angel Mission holds a Winter Wear drive, where they accept new and gently used boots, gloves, mittens, hats, scarves, and winter coats and open it up completely free to be given to those who need it in the community. The first weekend the drive was open in 2022, the entire inventory was depleted. Over 50 brand new jackets and even more hats and mittens were given away on this day. They are now holding drives to rebuild this inventory, as they know when the snow falls the need will rise again.
Support Copper Country Angel Mission with a #GivingTuesday Donation
The past donations from #GivingTuesday has given Copper Country Angel Mission stability for the foreseeable future with a place of their own. "Without #GivingTuesday last year, the doors of Copper Country Angel Mission would have closed," he said. "We would have had no place to go and wouldn't be able to continue to serve the Copper Country."
Copper Country Angel Mission has been announced as a 2022 #GivingTuesday partner, with donations opening in early November. Visit phfgive.org/givingtuesday to stay up to date on when donations are accepted. To learn more about the Copper Country Angel Mission, visit their website ccanglemission.org or join their Facebook group at Copper Country Angel Mission.
Kiera Raymond